"Artificial Intelligence Curriculum for Junior Secondary Students in Hong Kong - Teaching and Learning Pack"
The rapid development of innovative technologies, such as artificial intelligence (AI), is changing lives on many levels. Technology education is, therefore, an increasingly important part of holistic learning for our younger generation to prepare them for future challenges.

Given this, The Hong Kong Jockey Club Charities Trust supported The Chinese University of Hong Kong (CUHK) in launching the three-year CUHK Jockey Club AI for the Future Project in 2019. Under this initiative, the CUHK and local secondary schools have jointly established their first AI curriculum for the city's junior secondary school students to equip them with AI knowledge, nurture their innovative problem-solving skills, and develop their potential. Additionally, the programme inspires young people to apply AI positively, premised on empathy, morality and ethics, to create social benefits.

Encouragingly, the project has empowered over 30 pioneering and participating schools to offer AI studies to around 8,000 students, with hardware and software support, over the past two years. The curriculum, which puts equal emphasis on theory and practice and is closely related to daily lives, has significantly enhanced participants' knowledge and interest in AI. Additionally, the programme has provided professional training for teachers with sharing sessions to deepen their expertise. Through a myriad of public education activities, such as online training camps and exhibitions, the project also builds in the community an atmosphere conducive to learning about innovation and technology. Among them, the Secondary School Think and Create Competition helps inspire students to design and produce intelligent prototypes to solve daily life problems by applying creativity and AI.

The Teaching and Learning Pack showcases the project's fruitful results. We hope its comprehensive content, which caters for diverse learning needs, can help young people grasp AI concepts more easily, and provide a valuable reference for promoting the popularisation and regularisation of AI education. This in turn will help cultivate more information technology talent, enhancing our city's competitiveness.

As an ardent supporter of technology education, the Club has funded various educational initiatives to nurture 21st-century skills among kindergarten, primary and secondary school students. For example, we initiated the CoolThink@JC programme to teach children computational thinking and coding skills, and inspire them to apply digital creativity and use technology for social good. These advances are in line with the Club's purpose of acting continuously for the betterment of society. Its contributions are made possible by its unique integrated business model through which revenue is returned to the community in the form of tax payments and charitable donations.

I extend my gratitude to the Hong Kong SAR Government for its support of this meaningful project. My thanks also go to the Chinese University, alongside all partners, schools and teaching staff of the programme for their hard work and commitment. I wish our youth every success in seizing the opportunities arising from the development of AI, contributing to a smart future for all.
Message from The Project Team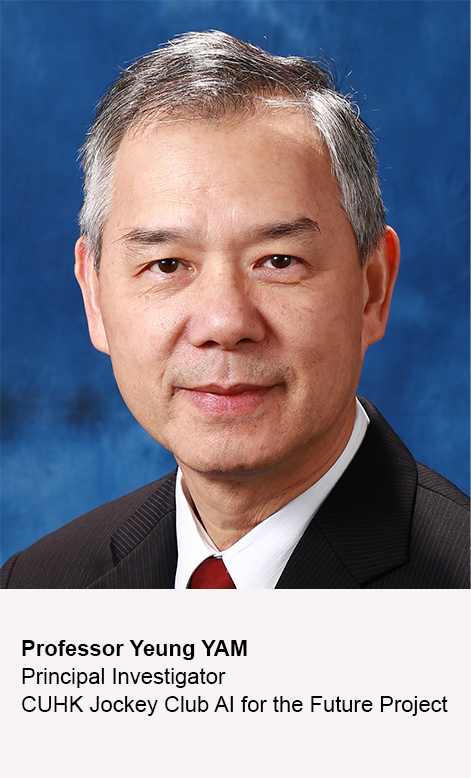 Artificial Intelligence (AI) is a new and transformational force that is reshaping our world. Some people refer to it as the Fourth Industrial Revolution which is changing the way we live and work. With rapid advancements in big data, cloud computing and machine learning technologies, AI is infusing into every aspect of our everyday lives.

Innovative thinking is an essential element in maintaining our competitiveness in the machine era. Nurturing talents is the pre-requisite for innovation. Funded by The Hong Kong Jockey Club Charities Trust ("the Trust"), the Faculty of Engineering and Faculty of Education of The Chinese University of Hong Kong ("CUHK") spearheaded this three-year AI education project, namely CUHK Jockey Club AI for the Future Project ("the Project") with an aim to develop a novel AI curriculum, as well as create a supporting infrastructure and ecosystem for sustainable AI education at secondary school level in Hong Kong.

Over the past two years, the Project Curriculum Team Professors, together with six selected local Pioneering Schools worked closely in writing, pilot-teaching, feedback and refinement of the AI curriculum, which was compiled into a Teaching and Learning Pack by four teacher advisors, forming this first-ever AI Teaching and Learning Pack co-created by CUHK and Secondary Schools, entitled "Artificial Intelligence Curriculum for Junior Secondary Students in Hong Kong - Teaching and Learning Pack" .

As one of the pioneers in junior secondary AI education, we hope our next generation to be equipped with AI knowledge and be able to utilize AI technologies in an empathic and ethical way. Moreover, we uphold the "learning by doing" principle in developing the curriculum. Our curriculum puts special emphasis on AI ethics and future of work, and includes ranges of experiments and local and international examples that will offer all round AI knowledge for students.

I would like to express my deep thanks to the efforts that our Team and all the Participating Schools made and I wish our Teaching and Learning Pack will lay the foundation in further technological education development in Hong Kong.
AI Teaching and Learning Pack Features
Originated at CUHK with exclusive hardware and software AI experiments
Content compiled from feedback collected at various discussions with 6 Pioneering Schools
Over 2,600 lessons of pilot-teaching by more than 70 school teachers, engaging over 5,100 students in Hong Kong
Student and Teacher Versions available, with worksheets, teaching guides and lesson plans
Instill important values in responsible and ethical use of AI
Present examples and case studies in both local and global contexts
Prepare us to be future-ready to face upcoming challenges and opportunities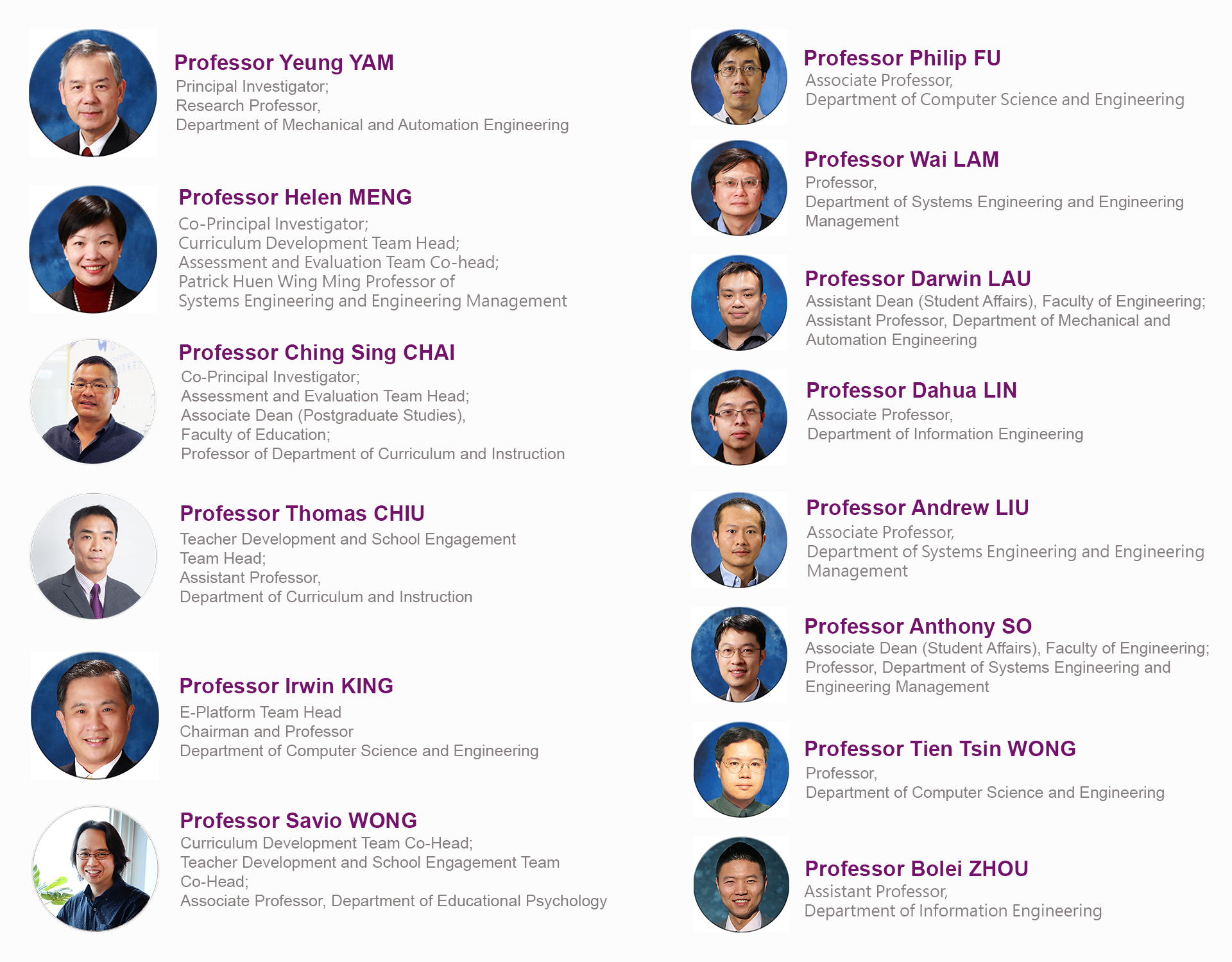 (ranked according to alphabetic order)
(ranked according to alphabetic order)
Mr Peter F Y CHUNG
Mr William Y N KOK
Mr Horace H K LUK
Mr MA Hoi Hung